Are you up for some Earl Grey? Would you care for some clotted cream and a scone instead of that Cinnabon? Do you sometimes find yourself apologizing when you haven't even done anything wrong? Or apologizing for not apologizing? ("Sorry, but I'm not going to apologize.") Would you like to trade up that Sam Adams for a Johnny Walker Black?
Well, if you're feeling the urge to cross the pond, or even return to your Colonial roots, the cheapest way is to tune into the BBC on Netflix (that's "British Broadcasting Corporation" for you anti-Anglophiles). The BBC is the world's oldest national broadcasting organization and the largest broadcaster in the world. It's also the place where U.S. entertainment producers turn to for ideas to spin-off into American-made television series and that's nothing new. All In The Family was based on a BBC show; Hell's Kitchen, House of Cards, The Office, Three's Company, American Idol, Shameless, Queer As Folk, Veep, Undercover Boss–all "borrowed" from our former landlord.
And for some reason, even though most of their programs are honestly good, the BBC seems to do an even better job at police and detective shows. Not a lot of shoot-em-ups, car crashes, or exploding city blocks but some really interesting characters and plot lines and some really first-rate actors.
Keep in mind that most of us are either going to have to listen carefully OR turn on the subtitles. Especially for the crime dramas which tend to have at least one or two characters with that whole "Cockney accent" thing going on. When I hear that, I can't help but think, "…and people from Boston think somebody from Nashville talks funny?"
You'd have to be living under a rock not to have heard of Sherlock by now. Sherlock is the modern version of the tales of Sir Arthur Conan Doyle's famous detective, Sherlock Holmes, and his sidekick Dr. Watson. In this version, the characters are in 21st Century London, the crimes are a bit more lurid, and the action is fast-paced, suspenseful, and witty. Benedict Cumberpatch, owner of one of the greatest "British-sounding" names in history, is immediately likeable and dislikeable as Holmes and Martin Freeman (the little guy from those really awful Hobbit movies) is probably the best incarnation of Dr. Watson to ever hit the stage or screen. I can't imagine you haven't given this a try, but if you haven't, please do. And for those who are fans already, check out Unlocking Sherlock, a look behind the scenes with the actors and writers–also streaming on Netflix.
Imagine Sherlock Holmes with Mel Gibson's temper and a female Hannibal Lecter to help him while he solves ever murder ever committed by Dexter. With a British accent. There you go–Luther. I've been watching Idris Elba, who plays Detective Chief Inspector John Luther, in movies and TV shows since the mid 1990's and I didn't even know his name until I watched Luther. Yet for some reason, he was immediately recognizable which tells me he's made this character his own and you can see from the first 15 minutes of the first episode that this guy is a powerhouse. Ruth Wilson plays Alice Morgan, a brilliant psychopath and murderer (sound familiar?) Luther is unable to convict of any crime due to lack of evidence–yet she gradually becomes his confidant, his companion, and a permanent thorn in his side. Just watch episode one–that's all it'll take. You'll be hooked.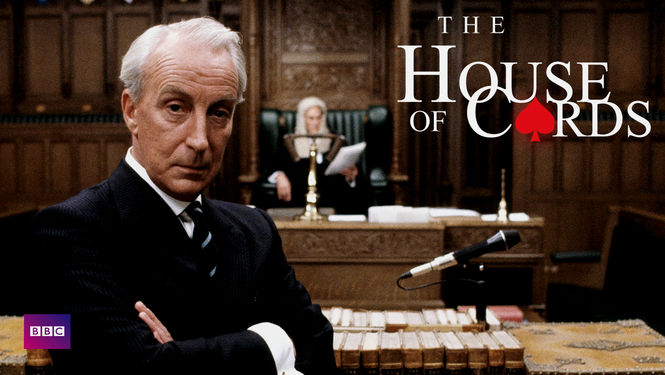 Before Frank and Claire Underwood began taking their revenge on Washington politics and politicians, Francis Urquhart was plotting and scheming his way to the job of Prime Minister in the Houses of Parliament. Although the politics are a bit unfamiliar to non-Brits, if you can't get enough of Francis Underwood you really should give Francis Urquhart a try. The story is the same–Francis expected to be rewarded for his political ties and support, he got screwed, and he pulls out all the stops to get even and get his just deserts. You don't have to dedicate your life to this series, either: four one-hour episodes and you're in and out. And if everyone spoke with the diction of Francis Urquhart (Sir Ian Richardson), it would be a better world.
I'd watch the BBC version of The Office just to hear Ricky Gervais laugh, but what this mockumentary really does is make the most of embarrassing situations and capitalize on every quirk in every co-worker you've ever had. If there's one thing Ricky Gervais is good at, it's making comedy out of something that should really make your skin crawl and that's exactly what his character, David Brent, does when he's aping for the "BBC documentary crew" that's filming the goings-on in the offices of the Wernam-Hogg paper merchants in Slough, Great Britian. If you work in an office… if you've ever worked in an office… you need to see this show. And then find yourself a new line of work.
Auschwitz may very well be the best documentary ever made. It's not a re-creation, it's not interviews with historical figures, it's not location shots and computerized graphics… it's all of these things–cut together brilliantly to give the viewer a true in-depth look at one of the most horrible incidents in modern civilization. Using every imaginable theatrical method and advancement to re-tell the story of the "Final Solution" from its inception to its culmination in the Death Camp at Auschwitz, this documentary should be mandatory viewing, especially for anyone planning to vote in the upcoming U.S. presidential election.
There you have it. Five of the Best of the BBC. After you've checked these out, bought yourself a houndstooth cap, given up on the dentist, and started driving on the wrong side of the road, you might also try: W1A, The Detectives, Fleming, Ripper Street, Copper, River, and Wallander. Or just go to the Netflix search page, type in BBC, click on anything, and… Bob's your uncle.
Don Gillette's latest book, Old Leather, is available at booksellers and on-line retailers everywhere.